Selected preloved vauxhall classics
Product detail
×
Error message
Warning
: Invalid argument supplied for foreach() in
store_ebay_similar_display()
(line
514
of
/home/sotwcom/public_html/sites/all/modules/custom/store_ebay_similar/store_ebay_similar.module
).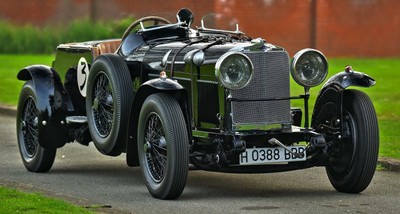 1933 Talbot 105 3 litre Brooklands special
Current price
Buy it now price £0.00
Bids
0, met reserve
Time left
0 days 0 hours
0 mins 0 secs
Seller (score) Feedback %
vandpcars (318) 100.0%
Seller location
GBGRAYS
Ships to
None
Condition
Used - 3000
Description
1933 Talbot 105 3 litre Brooklands special
£128,000.00
| | |
| --- | --- |
| Make | Talbot |
| Model | 105 3 litre Brooklands special |
| Year | 1933 |
| Transmission | -- |
| | |
| --- | --- |
| Fuel | Petrol |
| Engine Size | 2,969 ccm |
| Mileage | 1,000 Miles |
| Emission class | -- |
1933 Talbot 105 3 litre Brooklands special.



Chassis number: DRF170048

Registration number: VSU 650

Mille Miglia Eligible.



A beautifully crafted Talbot 105 Brooklands replica. This car boasts the largest 3 litre iteration of Talbots Pre war efforts. In 1931 four 105s were tuned to provide a reported 119 bhp, at 4,800 rpm. In "Brooklands trim" further tuning and an increased compression ratio of 10:1 gave rise to a claimed 125 bhp. This is thus a fast open tourer well suited to rallying.



The car is finished in fresh black paint to the exterior & sports the racing number 3 to the sides. It is a confortable 4 seater when requred making it very versatile. The seats are finished in biscuit coloured leather to the front & rear with matching brown carpets. The dash is of walnut with a full quotient of period instrumentation to the centre.



Given the lightness of the coachwork this is a fast car well able to run in modern traffic. The car is fitted with a Wilson pre select gear box well suited to competition work allowing one to select the required gear for an upcoming corner well in advance of actually arriving at said corner.



The car comes with a tonneu cover for the rear seats which may also be used as a luggage area. Twin aero screens are fitted to the scuttle & a spare wheel to the drivers side. The front wings turn in unision with the front wheels. The car is in fine order & is supplied freshly serviced & ready for immediate use.



Talbot's reputation for producing highly effective competition cars owed a lot to the efforts of the Tolworth-based motor dealership and racing preparation specialist, Fox & Nicholl who had looked after the works team since 1930. In that year the Talbot 90s dominated the 3-Litre class in prestigious international events such as the Le Mans 24-Hour race, despite displacing only 2.3 litres. This run of success continued when the full 3-litre Talbot 105 became available.

Famously registered 'GO 51' to 'GO 54' consecutively, the first four Fox & Nicholl Talbot 105s enjoyed an outstanding run of successes during the 1931 season, highlights of which included 1st, 2nd and 3rd in class at the Brooklands 'Double Twelve' and 3rd overall at Le Mans (1st un-supercharged car). The successes continued in 1932 with 1st, 2nd and 3rd in class at the Brooklands 1000 mile race, 3rd overall again at LeMans and 1st and 2nd overall in the Brooklands 500. In addition a solo attempt at the Mille Miglia was one of the great "might have beens" with GO53 finishing 25th after crashing at 900 miles when lying 4th overall.



Englishman Brian Lewis was able to finish the race in 25th driving a Talbot 105 even after driving miles off course when he took a wrong turn. Later the Englishman was able to relate a fantastic story on his Italian adventure. It seems that with one headlight out of action he was unable to see, in time a sharp curve in the road while traveling in access of 90 mph. The car became airborne and landed in a ditch. Miraculously the crew and car survived with a broken water pump and a minor hole to their fuel tank that was patched with some chewing gum.

The loud crash got the attention of the local populace who assumed the grim task of retrieving the bodies only to be cajoled by the lucky crew to grab a rope and haul the car back on the road. Amidst shouts of English mixed in with Italian they were able to accomplish this feat and the car was soon to rejoin the race to the cheers of the crowd!





The models eligible to take part in the 1000 Miglia are those of which at least one specimen took part – or completed the registration formalities – in one edition of the historic 1000 Miglia that was held from 1927 to 1957.



The coefficients are allocated after careful consideration of the year of design and the technical, sporting and historical features of each individual model. The total coefficient of each model is calculated using the mathematical formula below, adding up the partial coefficients related to period, class and category:

A gallery of large high-resolution pictures may be viewed on our website.

Office 01375 379719
Richard Biddulph 07967 260673
Christoff Cowens 07772188037

We accept Credit/Debit Cards.
Part Exchange welcome.
Weekend & evening viewings OK.
Viewings by appointment :


Prestige House.
9 Globe Industrial Estate,
Grays, Essex, RM17 6ST
Vintage and Prestige Classic Cars Ltd
Please call to arrange an appointment a test drive
9 Globe Industrial Estate
Towers road
GRAYS
Essex
RM17 6ST
| | |
| --- | --- |
| Monday | 09:00 AM to 05:00 PM |
| Tuesday | 09:00 AM to 05:00 PM |
| Wednesday | 09:00 AM to 05:00 PM |
| Thursday | 09:00 AM to 05:00 PM |
| Friday | 09:00 AM to 05:00 PM |
| Saturday | 01:00 AM to 01:00 PM |
| Sunday | 01:00 AM to 01:00 PM |
By Appointment
Reasons to buy from us
part exchange welcome
take all major credit or debit cards
wealth of experience in the motor industry
flexible hours
pleasure to deal with
Warranty

Warranty

Terms and Conditions

Open 7 days a week viewings by appointments only.
Information about the vehicle above is provided by the Dealer for guidance. eBay does not make any representations or warranties that such information is correct. eBay does not have control over and does not guarantee the quality, safety or legality of items advertised or the truth or accuracy of the content of this information. Please satisfy yourself before purchase that the information is correct by contacting the seller.
Copyright © 1995-2020 eBay Inc. All Rights Reserved. Designated trademarks and brands are the property of their respective owners. Use of this Web site constitutes acceptance of the
eBay User Agreement
and
Privacy Policy
.
| | |
| --- | --- |
| Start price | £0.00 |
| Item has reserve price | false |
| Start time | 2019-04-25T09:13:29.000Z |
| End time | £0.00 |
| Listing type | LeadGeneration |
Product insights for "1933 Talbot 105 3 litre Brooklands special"
How this item and seller is performing
Item popularity - 3677 views, 9 views per day (Not popular), 403 days on eBay, 0 bids, 0 sold, 1 available.
Seller quality - feedback score 318, 100.0 positive feedback (Top seller no problems),
From the same category
talbot sunbeam front valance
Talbot sunbeam steel front wings
1934 Talbot AV105 Three Position Drophead Coupe
1933 Talbot 105 3 litre Brooklands special
1979 Talbot Sunbeam
1981 Talbot Lotus Sunbeam